Fans in mourning over the end of Prime Video's military space drama "The Expanse," in January of 2022 should rejoice over the Rocinante crew being resurrected in a new format that solves many questions and plot threads from the show's six TV seasons.
"The Expanse" series was adapted from Daniel Abraham and Ty Franck's bestselling run of nine novels set 300 years in the future that told the epic tale of a lethal alien agent called the protomolecule and its effects on the Belters, Earthers and Martians.
Sadly, the last three books in the series include a 30-year jump forward, and the show was cancelled following the adaptation of "Babylon's Ashes" prior to the Laconian Empire's rule. But now Boom! Studios is transporting fans back to "The Expanse" with an all-original comic book title whose plot unspools between the events of "Babylon's Ashes" and "Persepolis Rising." You find out more on how to watch the show with our The Expanse streaming guide.
Related: 'The Expanse: Dragon Tooth' returns us to the Rocinante with 12-issue comic series
"The Expanse: Dragon Tooth (opens in new tab)" is a 12-issue limited series written by respected creator Andy Diggle ("Green Lanterns," "James Bond") and paired with striking interior illustrations by Spanish artist Rubine ("Voltron: Legendary Defender"), colors by Raul Angulo and letters via Pat Brosseau.
Diggle is in high demand in the comics industry and has produced the bestselling "Green Arrow: Year One," "The Losers," "Cold Iron" and the Eisner-nominated sci-fi graphic novel "Prométhée 13:13." He has now dived into the mythology and imaginative world of "The Expanse." We chatted with the creators about their cool new project.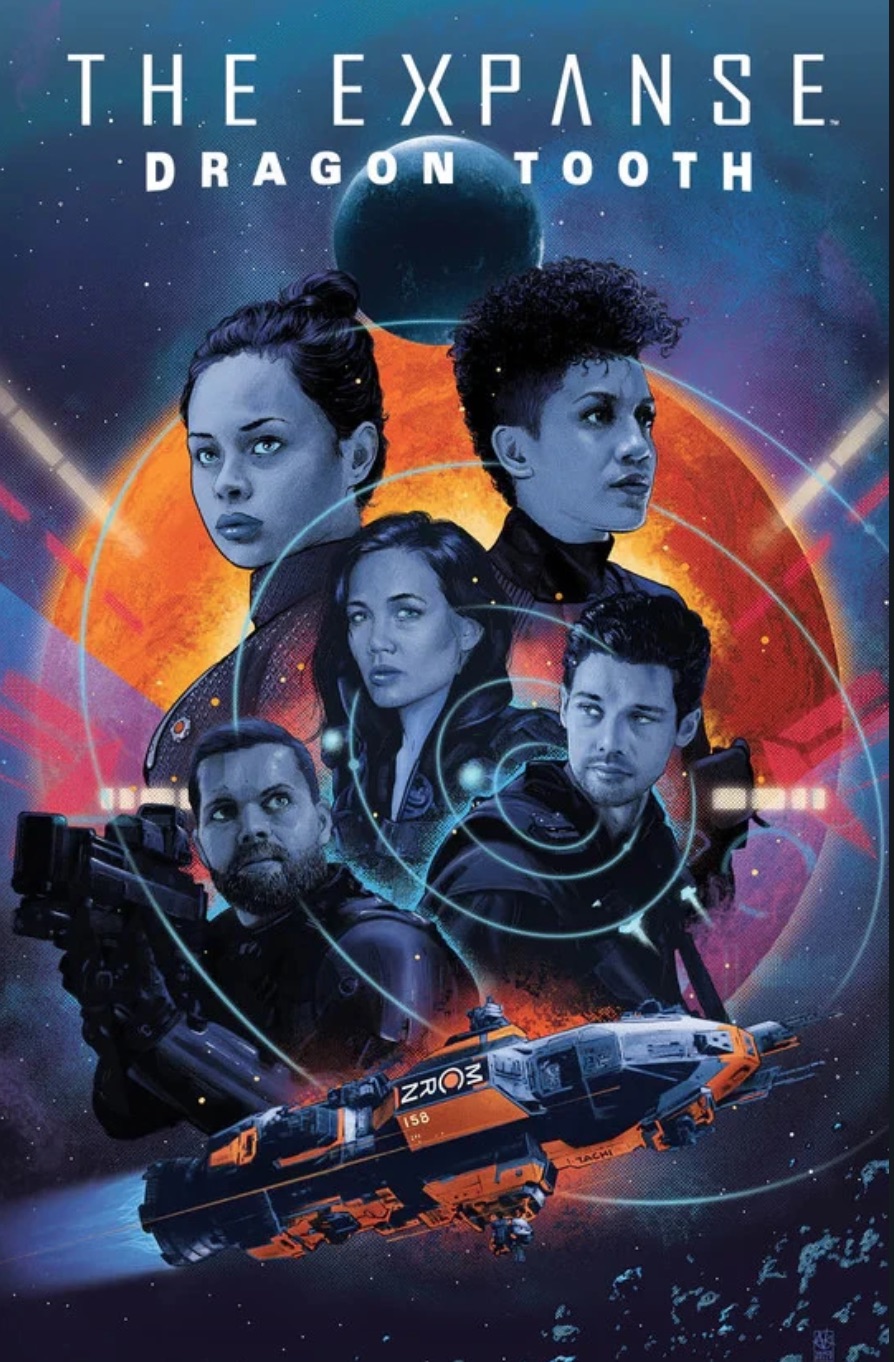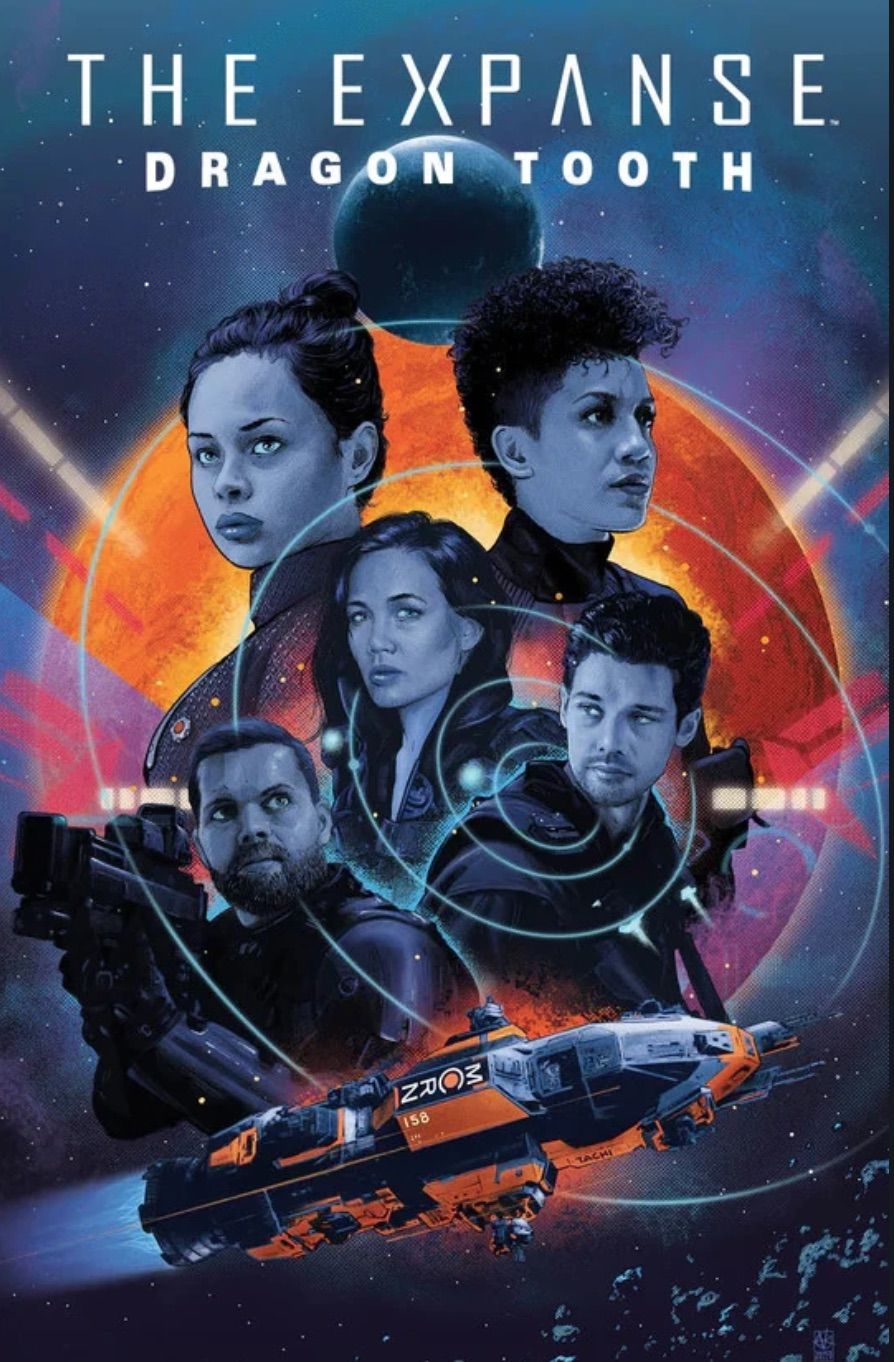 Space.com: Can you take us on a speedrun of "The Expanse: Dragon Tooth?"
Andy Diggle: Holden and the Rocinante crew are hunting a murderous pirate, while Avasarala investigates a military conspiracy — though I won't spoil the twists and surprises we have in store. Our story begins a couple of years after the Season 6 finale — so if you haven't seen the show yet (or read the novels) you should get on that, as the following does contain TV spoilers.
"Dragon Tooth" opens in the aftermath of the Free Navy conflict. Earth and Mars have withdrawn their fleets from the outer planets to protect their homeworlds, and to hunt down the last ragged remnants of the Free Navy in the main Belt. Earth's ecosystem has been crippled by asteroid bombardment, so there's mass starvation across Sol system and beyond. Mars is reeling, both from an exodus of citizens to new colonies beyond the alien Ring Gates, and from a military mass defection to the Laconian Separatist movement led by the treasonous Admiral Duarte. 
Earth and Mars are putting on a public show of unity. But in private, UN Secretary-General Chrisjen Avasarala suspects an ongoing high-level conspiracy, which she investigates using her inimitable repertoire of diplomacy, guile, and extortion.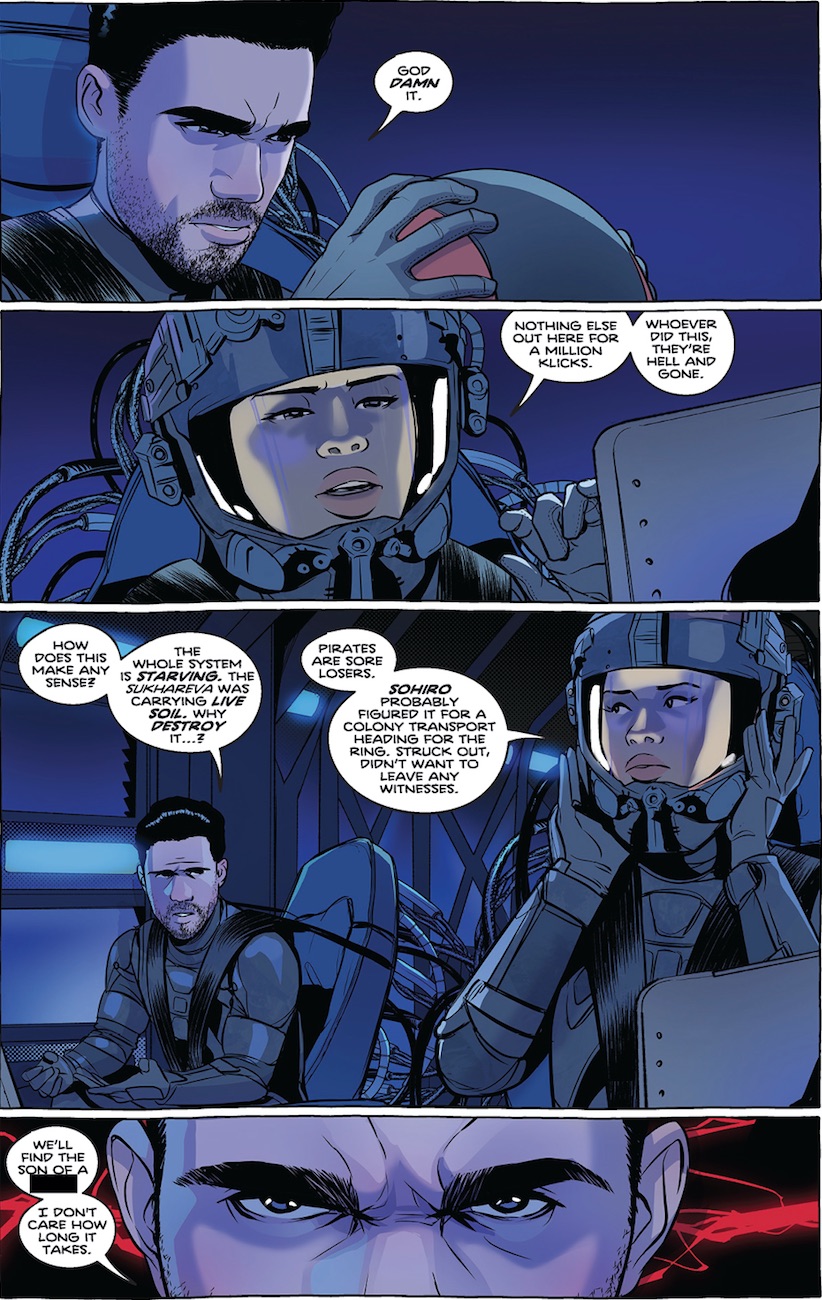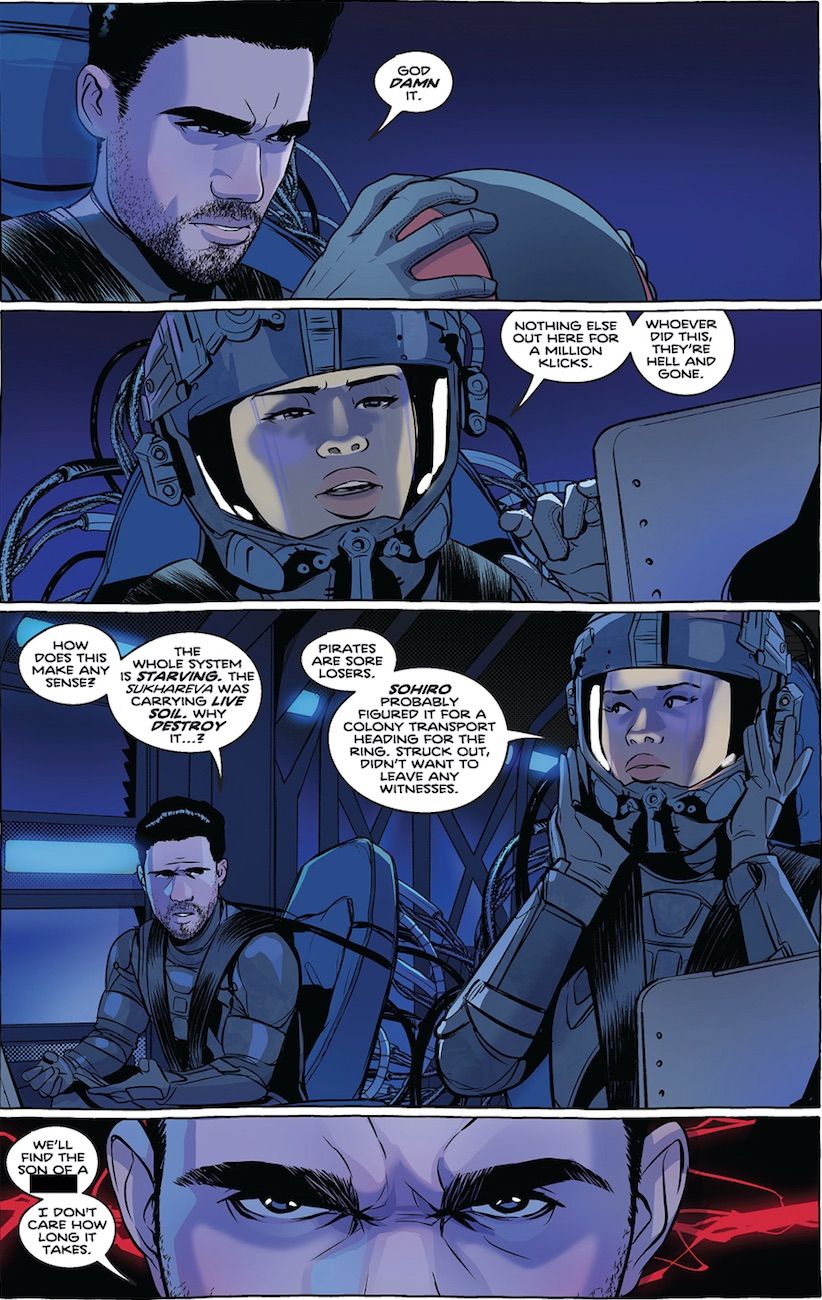 Meanwhile in the outer planets, the Transport Union is a rising power led by Camina Drummer, controlling all transit and trade through the Ring Gates. But transports and colony ships are falling prey to a ruthless new pirate faction, led by the notorious but elusive Sohiro. With no official navy of its own, the Transport Union must rely on private contractors to provide some semblance of security in the lawless expanse beyond the main Belt. 
That's where the Rocinante crew come in, with a handful of independent pirate-hunter ships like the Tynan, Mowtang and the newly built OPA gunship Gatamang Feronte. It's an unimaginably vast area to patrol, especially when you factor in the remote and sparsely populated Kuiper Belt.
Related: Solar system planets, order and formation: A guide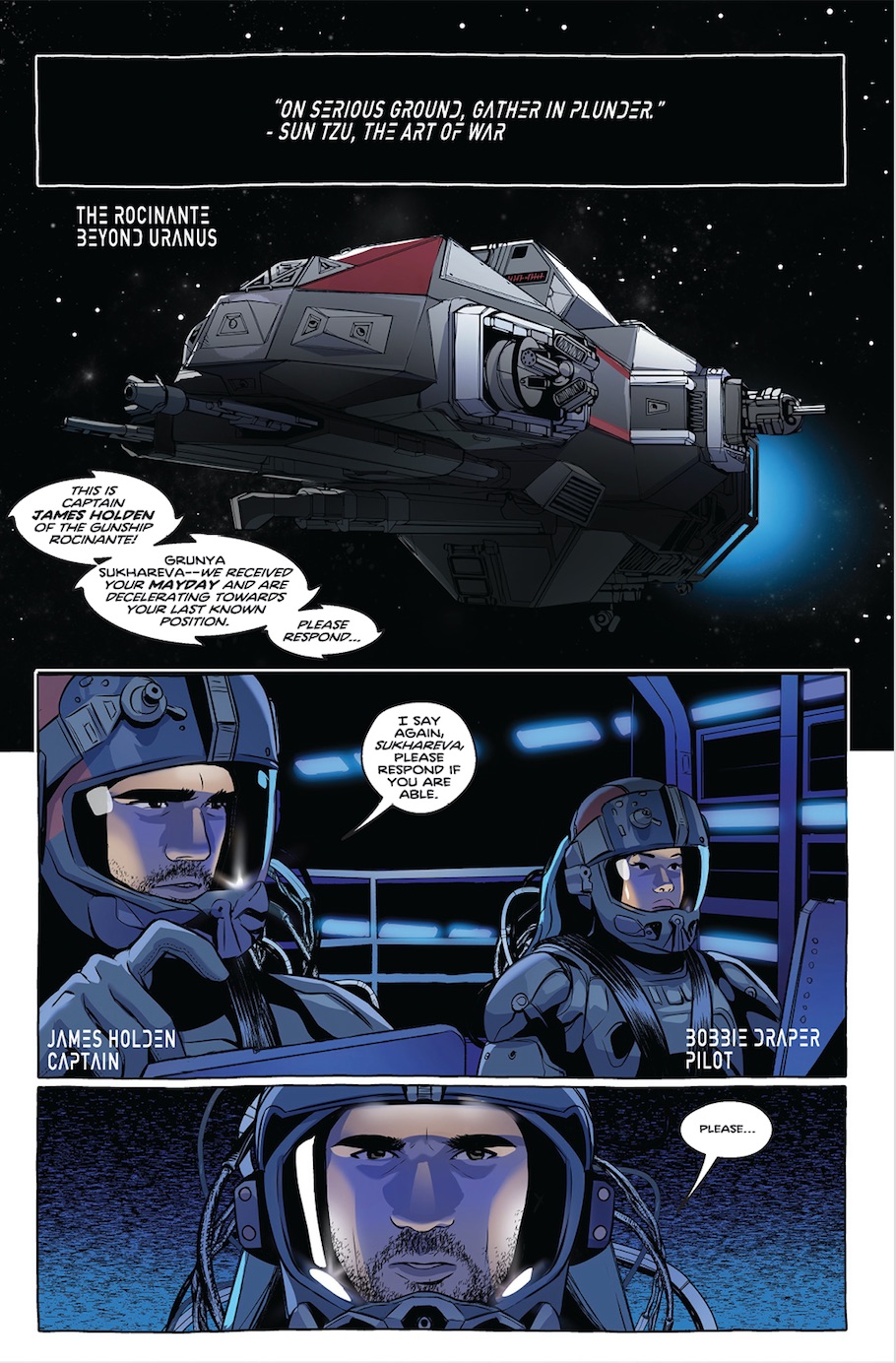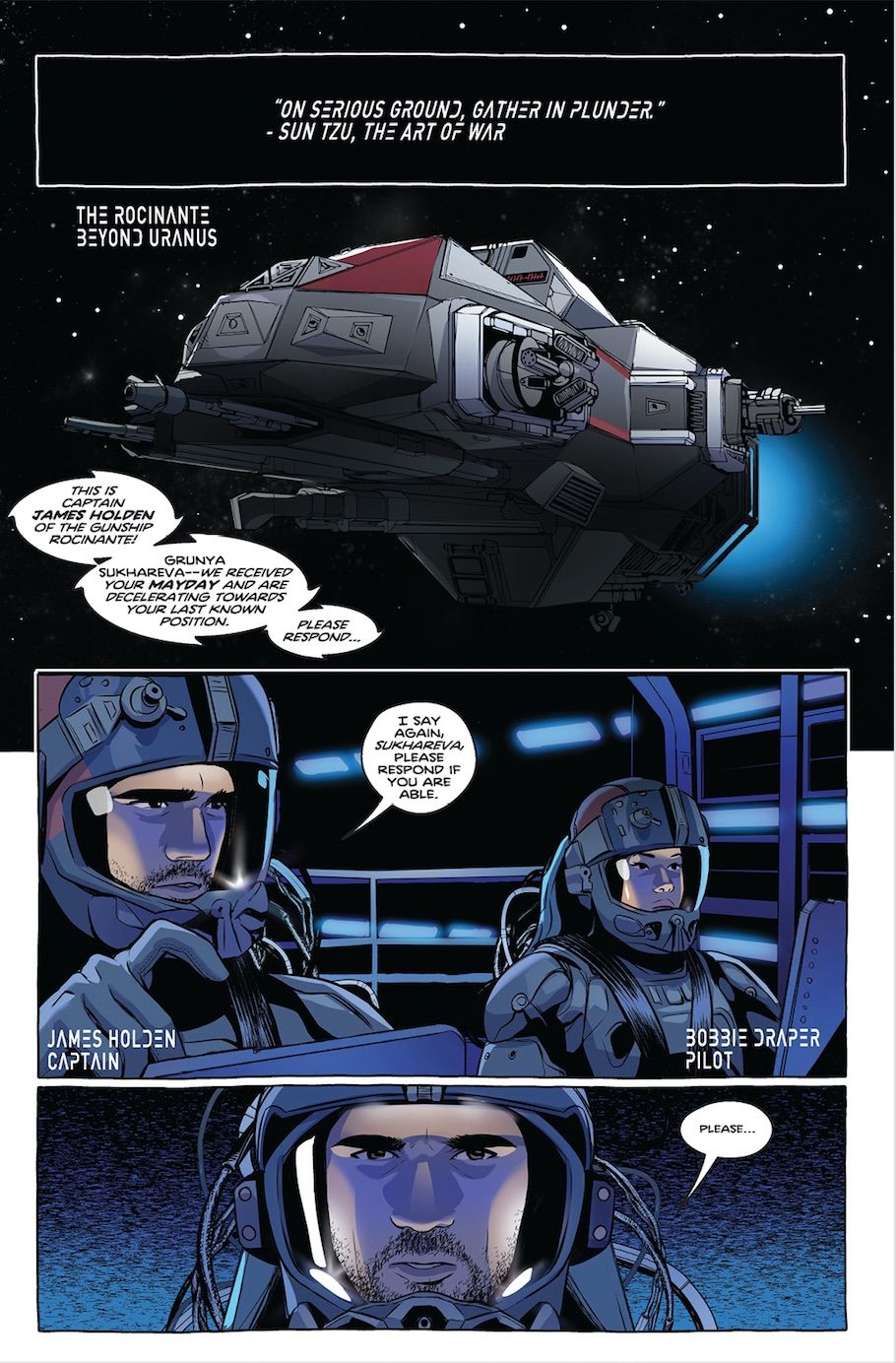 Space.com: Why is "The Expanse" the ideal sci-fi property to expand into comics, and what were your associations with the material?
Rubine: "The Expanse" has a vast lore, with a multitude of interesting characters with many nuances. Besides offering a fun and intriguing plot, this series allows more space to learn more about them. Many characters from different seasons will have their moment here. It is a real gift for fans!
Diggle: I've been a fan since Season 1 of the show, which got me into the novels it's based on. I've read them all twice now and watched the show countless times. I even played a Belter in a live-streamed Expanse RPG on Twitch, terrible fake accent and all. The TV show did an incredible job adapting and streamlining the books, without ever sacrificing the brains or the heart of it. I love that it's resolutely hard sci-fi, on top of the human drama, political relevance and kick-ass action. Compressing that scale and scope down into a 22-page monthly comic is a tall order, but I'm relishing the challenge. Honestly, I can't believe they let me fly the Roci!
Space.com: What was important to preserve for fans of the books and series?
Rubine: For my part, what I would most like to have achieved is to make recognizable characters both physically and gesturally so that their personality is apparent in each panel.
Diggle: I want to ensure "Dragon Tooth" feels relevant and necessary. It's not an adaptation of existing material or irrelevant, skippable filler. It's the next chapter of the story. If you've seen the show and want more, this is what happens next. A continuation of the story threads that were left hanging at the end of Season 6, without spoiling what will later unfold in the seventh novel.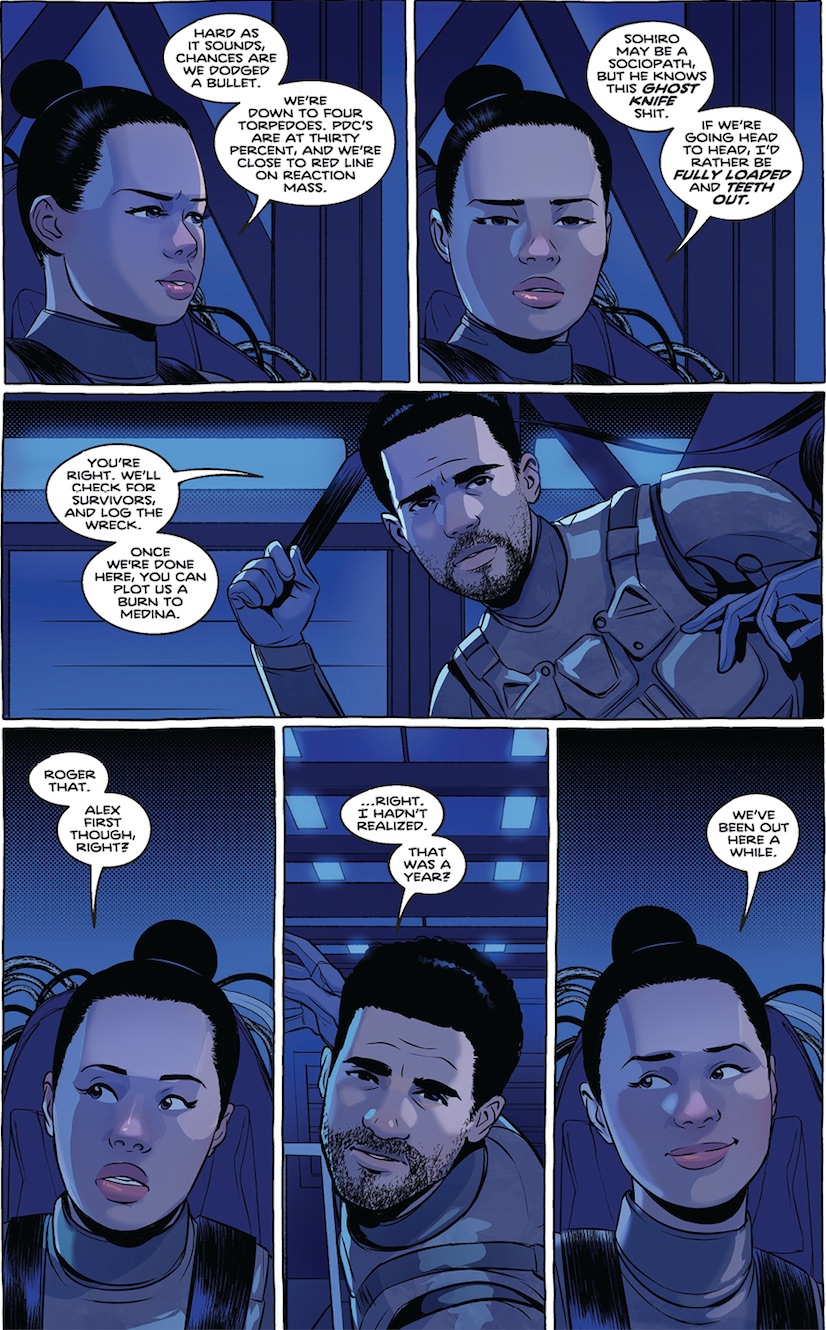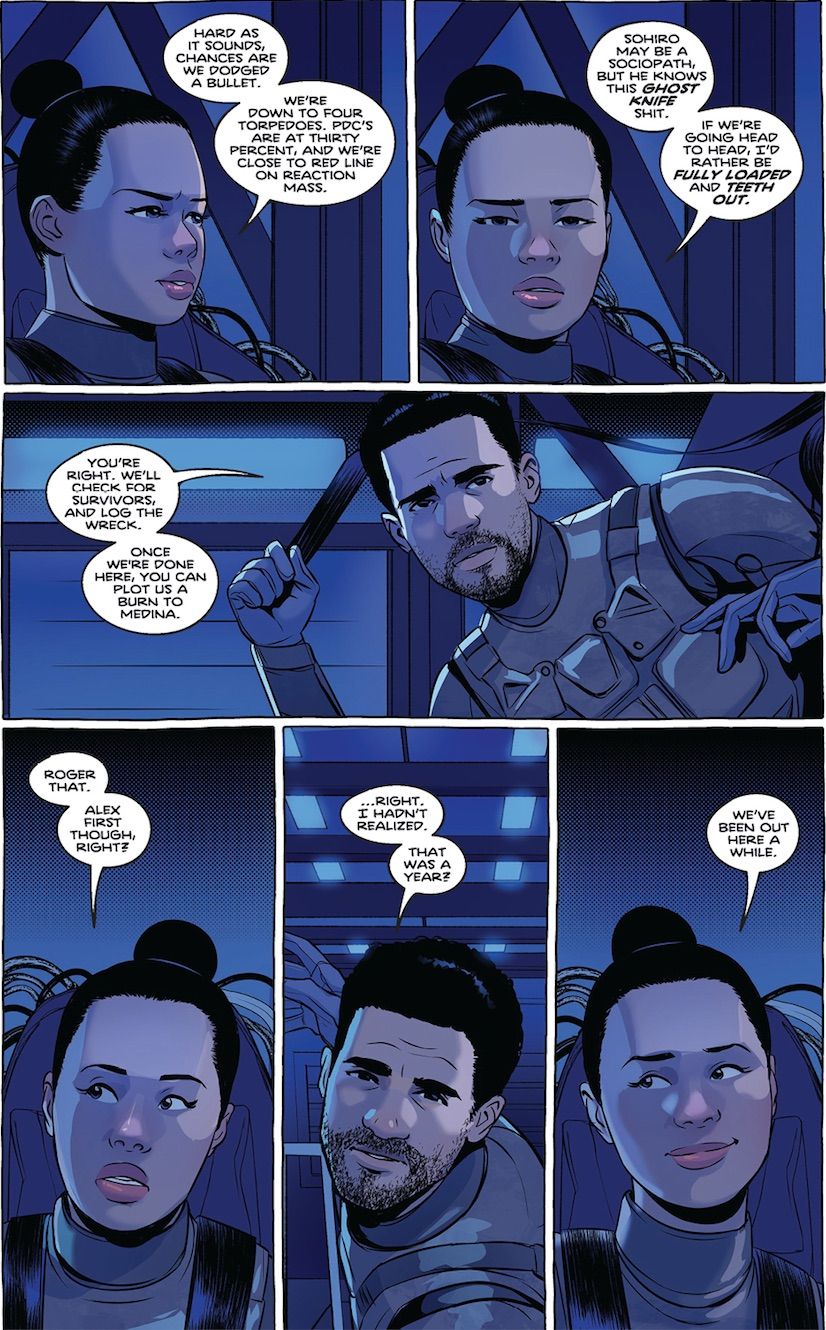 Space.com: What design aesthetics and tone did you decide upon in delivering this comic book adaptation of "The Expanse?"
Rubine: We were clear from the beginning that, graphically speaking, it had to be easy to read. This series will be read by people who are not regular comic readers, so we have opted for more cinematographic sequencing. Regarding the drawing style, I have tried to be faithful to the series' aesthetics but added a bit of myself with my drawing style with varied influences and a lot of detail in the backgrounds.
Diggle: Rubine puts a huge amount of technical detail into the art. The Roci has to look like the Roci inside and out, as well as every other ship, weapon, uniform, gun, crew patch, and tactical screen. It's an unbelievable amount of work for an artist, and it's not like he has an entire art department backing him up. I'm spending hours trawling for screengrabs and assembling folders of visual reference, so Rubine can spend more time actually drawing. I've even put together lighting reference, so our colorist can see how stark sunlight falls on a ship at the edge of Sol system, or the blue "battle mode" lighting in the Roci's Ops Deck.
It's important to me that "Dragon Tooth" looks, feels and sounds like the characters the fans already know and love. Not just visual likenesses, but getting each character's manner of speech right, and understanding how they would or wouldn't act in a given situation. In that respect it's probably more dialogue-driven than some of my previous work, with more of an emphasis on human drama and intrigue. 
Of course, that doesn't mean it's light on action. If you're hoping to see some ship-to-ship CQB, or Amos in a zero-g knife fight… get ready to be happy.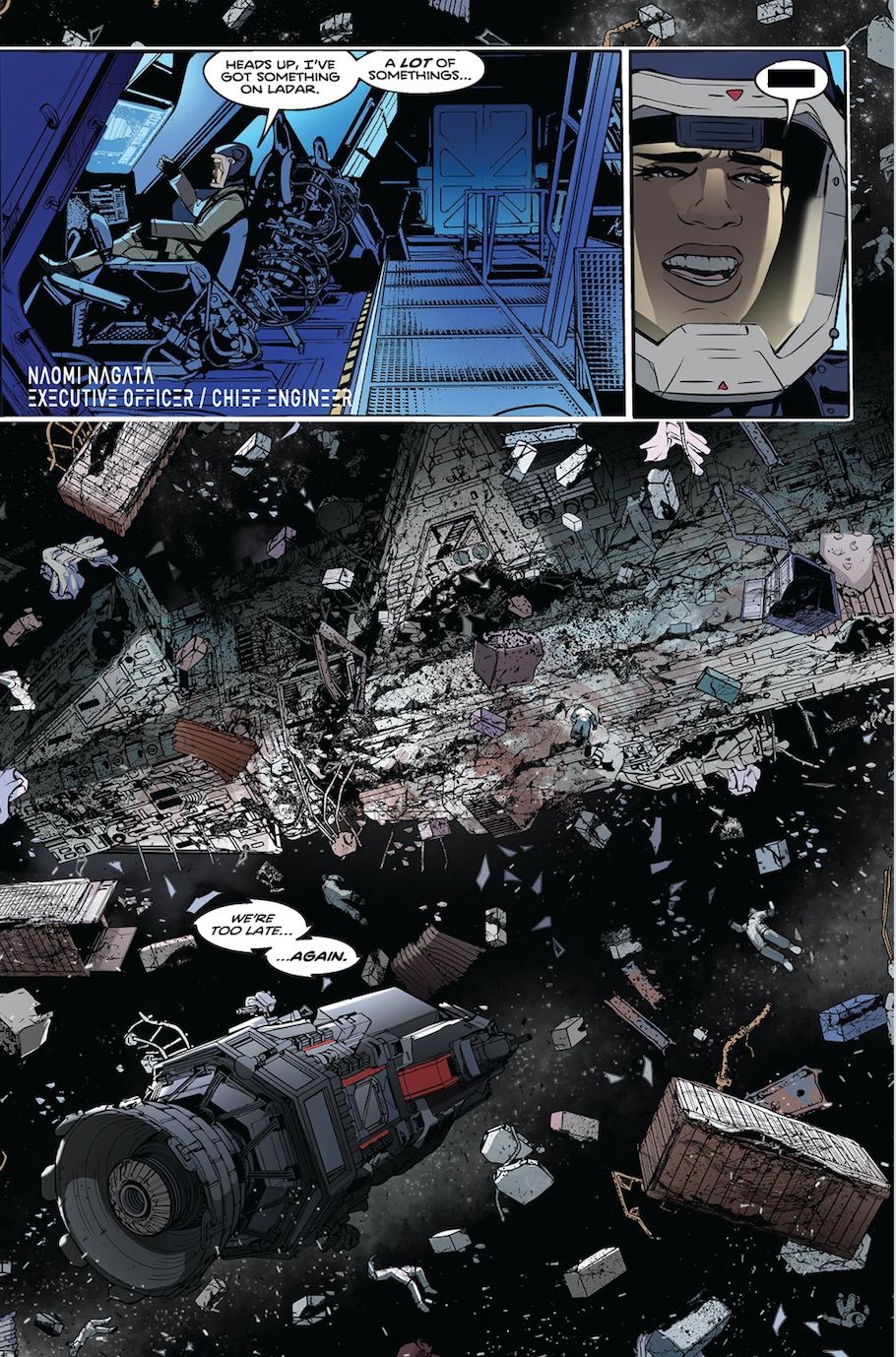 Set after the show's final season, Boom! Studios' "The Expanse: Dragon Tooth #1 (opens in new tab)" hit this week with a main cover by Eisner Award-winning illustrator Christian Ward ("Invisible Kingdom") and multiple variant covers by Jung-Geun Yoon ("Something is Killing the Children"), E.M. Gist ("Star Wars"), and Salvador Larroca ("Doctor Doom"). 
Follow us on Twitter @Spacedotcom (opens in new tab) and on Facebook (opens in new tab).